The Crusher's comforts website is not only the home of their online shop, but it also holds a wealth of information regarding ferret care. Today however I'm going to talk about their shop and the range of fantastic products that they have to offer.
Crusher's comforts was named after Crusher Hoblet, a polecat coloured ferret who was found by his mum and dad (Karen and Barrie) at an auction in a cardboard box. Crusher is now famous, not only is he a star on the social networking site Facebook, but he travels with his mum, dad and his team of 37 ferrets on road shows across the north east of England, educating the public about his kind.
It was on one such show that Crusher noticed that the other ferrets attending didn't have bedding that was up to his standard, so he and his team put their heads together with their mum and 'Crusher's comforts' was born.
The whole of the Crusher's comforts range has been tried and tested by Team Crusher before being put on sale, Karen says that she has seen 8 fully grown hobs in one of their hammocks before!
Crusher's comforts can tailor make beds to your specifications, if you are after something of a particular design that you did not see then contact them to discuss your requirements. They keep most of the products in stock, but if they do not have the product that you wish to purchase available, Karen said that they can usually get it produced and shipped out fairly quickly.
We've all seen hammocks of various styles and sleeping pouches etc. but what about something a bit different? Well Crusher's comforts can help you. They have three designs that I personally have not seen anywhere else, the 'Comfy couch', 'The launch pad' and 'My space pod'. I'm going to talk about The launch pad and My space pod.
The launch pad, pictured below, is a luxurious cushioned bed made from the finest quality anti-pilling fleece. It comes with a removable inner cushion and a blanket. You can choose to have it in either pink with flowers for girls or in blue tiger print for the boys.
The beds are 100% machine washable and measure 11'' x 14'' x 3''. It is currently priced at £17.50 (+p&p).
My space pod (pictured below) is 100% unique to Crusher's comforts and wont be found anywhere else! Again it is made with the highest quality anti-pilling fleece and all animal friendly materials. They measure 16'', come with an internal cushion for your ferret's comfort and are machine washable. Available in 5 designs which are the red ladybird, Leopard print design, tiger print design, white and purple ladybird design and the green and black ladybird design. They are currently £20 (+p&p).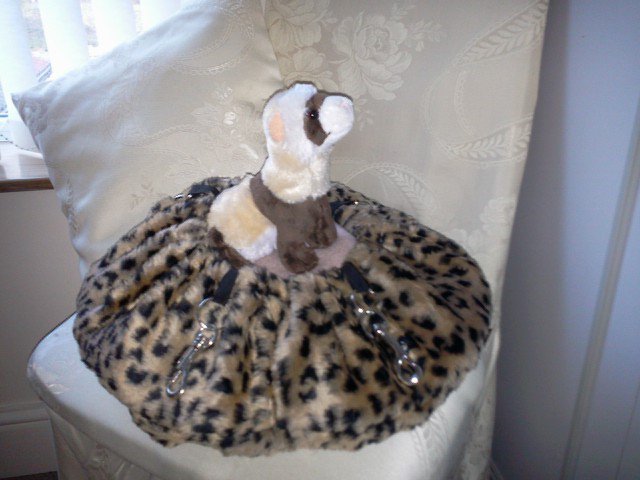 The leopard print design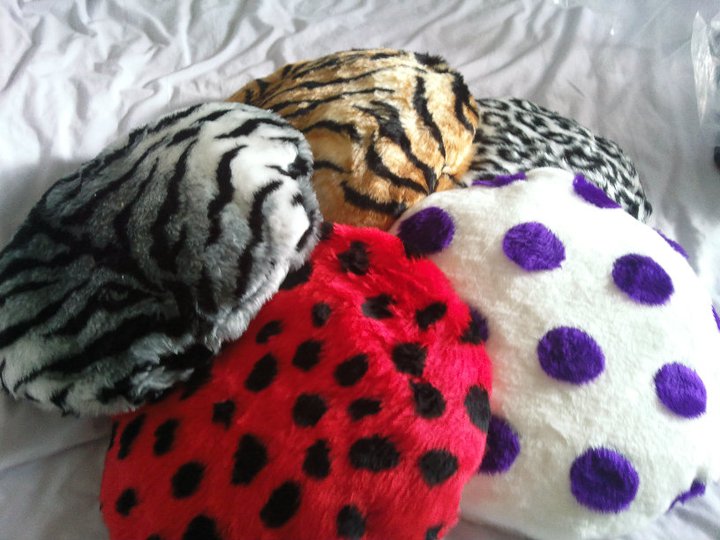 The colours/patterns available
Crusher's comforts not only stock beautiful ferret bedding but also a range of exquisite ferret accessories and products for both ferrets and their humans. They have their own greetings cards, novels, T-shirts and bags to name a few. I'm going to tell you about two of my personal favourites, the 'Scented sleeping ferret soaps' and the 'Two seasons water bottle and covers set'.
The scented soaps are beautiful handcrafted soaps made to look like a ferret curled up alseep. They are made from all natural ingredients and come in 6 gorgeous fragrances including strawberry, coconut and English rose. They are approximately 7cm in diameter and 100grams in weight. Please be aware that they are intended for human use only! They make wonderful gifts as each one comes in its own gift box for that special touch. They are currently £3 each with £1 from each sale going towards ferret welfare.
The two seasons water bottle sets are a fantastic idea that enables ferret owners to keep their ferrets at the right temperature whatever the weather. The set comprises of one ferret water bottle (rather like a smaller version of the human hot water bottle) and two covers. One cover is for the summer months and one for winter. The high quality anti-pilling fleece cover is for use in the summer. You half fill the bottle with cold water and pop it in the freezer until frozen. Then you slip the cover over before popping it in with your ferrets. They can lay against the bottle to keep cool without getting a chill thanks to the fleece cover. The second cover is made from pet friendly faux fur and is intended to be used over the bottle when it has been half filled with warm water, to provide heat for them in winter. The sets come in matching colours and a choice of three colours, blue, pink and lilac. The covers can also be machine washed. They are currently priced at £9.99 (+p&p) for one set.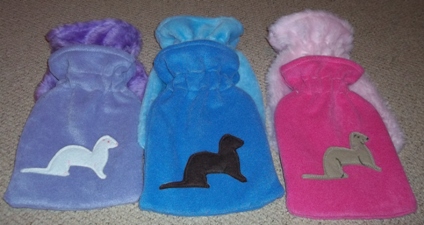 Crusher's comforts guarantees to provide top quality bedding that will hold pets of up to 6kg, made with only the best materials and heavy duty non chewable metal clips. If for some reason a bed does not meet this specification they will provide a full refund within six months of purchase and offer to send you a replacement at no cost to yourself. This is a highly unlikely turn of events as in all the years that Crusher's comforts has been running they have yet to have a returned item!
Why not visit Crusher's comforts for yourself and have a browse? To visit the main page please follow this link
http://www.crusherscomforts.co.uk/
Or to go directly to their shop please click here
http://www.crusherscomforts.co.uk/ferret_toys_store